Keep Your Budget In Check Before Baby Makes Three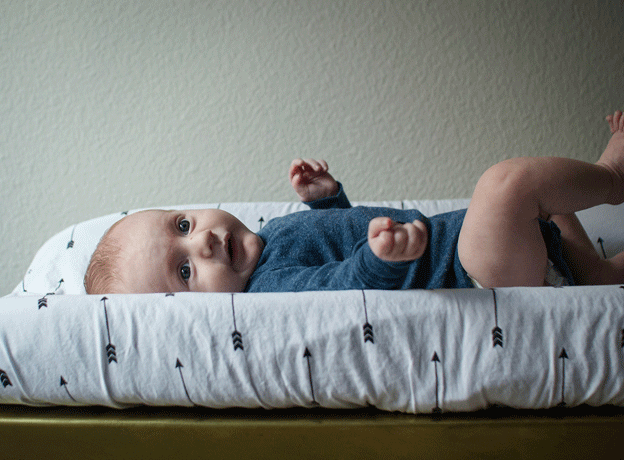 Kids are expensive. If you haven't started looking at the costs, you may be surprised to find that you could easily drop more than $12,000 on what's growing inside your bump during the first year of their life. That figure takes into account a middle-class family — not the economically elite — but don't panic just yet. There are ways to make even a small baby budget work.
Start with the Registry
Chances are, your friends, family, and coworkers are itching to throw you a baby shower. Let them! And don't be shy about filling your registry with things that are just out of your price range. A video baby monitor is a great wish list item that isn't a necessity, but a nicety that can ease your fears when it comes to making sure the baby is safe when (and if) you let them out of your sight. If you plan to make your own baby food, a blender made specifically for the job can really come in handy.
Know What to Get Yourself
While your baby registry is great for helping you check mid-to high-priced items off your list, there are many things you should handle on your own. Your maternity and nursing bras and post-pregnancy clothes come to mind.
Maternity bras are like normal bras but with extra features and padding to accommodate your expanding breasts. A nursing bra is made with fold-down cups to make breastfeeding more convenient. You can also find combination bras that will get you through the last few months of gestation and the first year of your baby's life. Shops like Kindred Bravely, which specializes in maternity and post-baby clothing and accessories, offers discounts when you buy multiple maternity bras, and you can even purchase a nursing sports bra for when you work out!
Clothing is another item that you shouldn't leave to chance. While you can always borrow your best friend's maternity wear, you want to show off your bump with your own sense of style. Plus, chances are, your bodies aren't exactly the same, so the cute crop jeans that looked so great on her won't do you the same justice. Invest in a few high-quality, versatile pieces. Macy's is a great place to shop for maternity clothes, and with a little digging you can find Macy's coupons, promo codes, and special offers to shave even more off your expenses.
Price Check and Compare Everything
As B-Day (Baby Day) gets closer, you need to start thinking about the everyday items that you'll need. Topping this list is diapers — you will use them almost hourly for the first few weeks and months. Sadly, they don't come cheap. The hospital will likely send you home with sample packs of the big-name brands, and your push to be the best mom ever will convince you that you need Mickey Mouse to dress your baby's bottom. You don't. Store-brand diapers are often just as good as their national brand counterparts but at a reduced price.
Other mom-essentials to cost compare include books on pregnancy and parenting, toys, and photo printing services. This last one is important because you will take approximately all the photos of your baby during his first year. 
Being a mom means pulling out your wallet. However, if that wallet is running a little thin, you'll need to start your pregnancy prep as soon as possible to ensure you get the best deals. So, do your research, leave the big stuff for the registry, and don't give into marketing hype that says you're only a good mom if your baby's diapers are lined in luxury.
Image via Pixabay
Article Contributed By: Emily from mightymoms.net
---
back to top of page
---
Site updated  January 20, 2021