Jun 17, 2019
Your 6th Sense Superpower with Sonia Choquette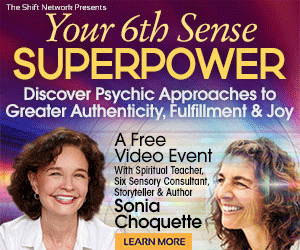 Experience a powerful practice to access your psychic abilities
Who do you truly want to be? And what's stopping you?
Anyone who walks a spiritual path has faced or is facing those two questions.
According to Six Sensory consultant Sonia Choquette, the best and fastest way to discover the answers is to tune in to your intuition… your innate psychic ability.
Sonia, one of the world's foremost authorities on intuitive awakening, affirms that if you truly want to reap all the benefits of living the life your soul desires, living by your intuition is a must.
If you'd like to access your intuitive, psychic abilities AND experience more clarity around your challenges, intentions, and desires, you'll want to join us when Sonia will share quick and simple ways to open to your innate psychic abilities during a FREE video event: Your 6th Sense Superpower: Discover Psychic Approaches to Greater Authenticity, Fulfillment & Joy.
You can register here.
During this complimentary hour, you'll:
Learn the "language" of intuition — the difference between willful, wishful, and fearful thinking and true inner knowingDiscover how to use your intuition as a "truth serum" to inform and enliven your lifeGain insights into where you're stuck in your life and how to get unstuck using your intuitionDiscover simple practices for accessing your intuition and allowing in what you desireExperience a guided practice for creating your own "personal room to breathe," a space of clarity where your intuition can flourishTapping into your intuition or sixth sense can bring you healing — both emotional and physical — and is quite possibly one of the best things you can do for yourself, others, and our planet in these troubled times.
Let Sonia show you why your inner knowing is your true power — and the most authentic path to living a creative, fulfilled, and joyful life.
Pamela
P.S. If you'd like to step more fully into your intuitive powers and a more joyous, authentic, soul-led life, don't miss Wednesday's mini-workshop, Your 6th Sense Superpower: Discover Psychic Approaches to Greater Authenticity, Fulfillment & Joy.
It's free to attend, but you'll need to RSVP here.
A downloadable recording will be provided later to all who register, whether or not you listen to the scheduled event.
Continue reading "Your 6th Sense Superpower with Sonia Choquette"