Connected Children
even though being your
child's advocate may test
your mettle, it will
comfort and empower them and
strengthen your connection!

---

Raising connected children sometimes tests our mettle. An example of this while staying connected to my Kids occurred when my daughter was anticipating upcoming standards testing in school. Beginning in the fall, her anxiety went from a dull roar to a volcanic peak of sheer and utter panic. A few days before the scheduled date, she had a complete meltdown. No amount of cajoling, coercing, bribing, uplifting, encouraging...would break through to the place of terror she was in.

I am very much inclined to completely take my cues from my children as to what is best for them. I believe that if they listen to their heart, pay attention to what they are feeling they will get the direction that is best for them. For all of us, in fact, but it's one of the paybacks of raising connected children.
However, in this case, I was under pressure.

Being Council Chair of our Charter School, I was very aware of how important it was for the financial health of the school that most, if not all, of the students take the standards testing required by the state. How would I be able to show my face if I went to bat and became my daughter's advocate in her refusal to be okay with testing? So...yikes, what do I do?
Finally, after pulling out all the stops in using the tools I usually found effective (yes, sometimes bribery does not qualify as manipulation--I see it as win/win!), I just knew it was time to open up the space. I did not, at the time, articulate that I was opening for Spirit; I just knew that what was of utmost importance was that I be my child's advocate, regardless of my 'losing face' (Big Deal, right?!). I declared, that's it, it is so not right that you be in this much pain. After all, why are we doing this whole home-schooling thing anyway, if not to circumvent the unreasonable expectations, demands, pressures of traditional schooling? In addition, what about my commitment to parenting connected children?

My son who had been a mostly silent bystander through this whole process, was genuinely astonished when I finally stepped up to the plate and exclaimed in his thespian fashion, Whoa! I now have faith in mankind!! The future!! (A little side benefit of mom making a decision with integrity - right? And giving a little proof to my son that his mom truly wanted connected children.)
I immediately communicated my decision to our supervising teacher. Guess what, the space had been opened for Spirit. Her response was that she would do anything to make the process comfortable for my daughter. The result was low-key, un-timed testing with just her brother, herself, and the teacher in a cozy, comfortable room at the library with treats as sustenance (!) provided by this hugely loving woman.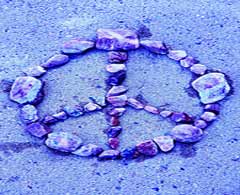 My daughter's fear had been due to previous experiences where she went at her own pace and completed all the work. Other kids, however (maybe they just filled in the bubbles!), finished quickly and went outside to play, with their laughter and shrieks distracting the kids still inside and for my daughter, at least, increasing the pressure to an excruciating level.
Subsequent to this, I gave my daughter an assessment to determine her learning style. I learned one of the characterizations of her approach to learning was an aversion to testing. I was so relieved I had stayed connected, listened, and we had found a way through.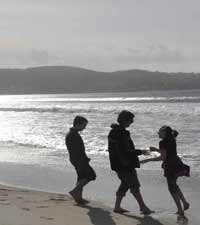 Being your child's advocate teaches them they live in a safe Universe.  Connected children have the foundation for healthy relationships throughout life. They have learned they can trust others.
They have thriving sibling relationships. The parent of the connected child allows her to have the space to negotiate her own unique relationship with each of her siblings. (Sometimes, you choose to allow them to be their own advocate!) This sometimes means staying silent when there is discord, and refusing to be referee when there may be conflict. Besides, I have discovered that the solutions at which the siblings arrive are usually much more elegant and much sooner than if I had become involved!
There are so many insights to explore and discuss on this theme of Connected Children. We'll keep the dialogue going. Also, please share with me any of your ideas you'd like, by going here: Contact Me! I would love to hear from you!
And you might be interested in this highly recommended program on raising Happy Children.
---
back to top of page
---
Site updated  January 20, 2021